Tour Information
Itineraries: HA NOI – TRAIN TO LAO CAI – SAPA – BAC HA – FANSIPAN PEAK-  HA NOI  
Type: Private
Depart Time: Daily
Tour Length: 6 days 5 night
Depart from: Ha Noi
End in: Ha Noi
Day 1: Hanoi – Laocai
20:00 Pick up at your hotel in Hanoi & transfer to Hanoi station for overnight train to Lao Cai, departs at 21:15. Overnight on the Fansifan train with 01 private deluxe sleeper cabin (01 private cabin)
Day 2: Saturday (breakfast) Lao Cai – Can Cau – Bac Ha.
Arrive Lao Cai at 5:30am. Pick up and have breakfast at local restaurant, then transfer to Can Cau market, which passing Bac Ha town. The road between Bac Ha and Can Cau is hilly but scenic. The products at the market are interesting, and many different groups of ethnic minority people represent make the market an unforgettable experience. Back to Bac Ha for lunch. Check in at a hotel in Bac Ha. After a rest, trek about 5km of mountain path to Ban Pho village – home of Flower H'Mong people, get in touch and witness their traditional life style, habit and customs. Overnight in Bac Ha.
Day 3. Sunday (Breakfast) Bac Ha – Sapa.
After breakfast, explore the spectacular Sunday market. Here you will see local hill tribes from all over the area. You will see mainly the Flower H'mong tribe along with the Black Yao, Nung, Phu La tribes all coming from neighborhood villages. Check out the hotel and drive for 10 miles to Trung Do. You will walk through rice paddies, along Chay river until you reach their village. Afterwards, you will enjoy a boat journey on the Chay river where you will see the locals at work and gaze at the stunning mountain scenery. Then, pick up at Bao Nhai bridge and transfer to Sapa. Stop in Lao Cai for lunch, and then visit Sino – Vietnam border. Enjoy the scenic drive to Sapa. Overnight in Sapa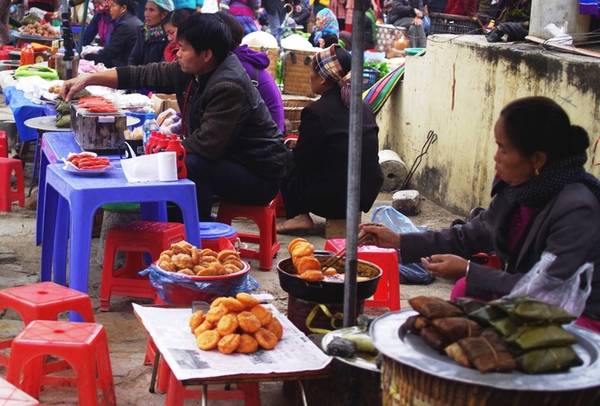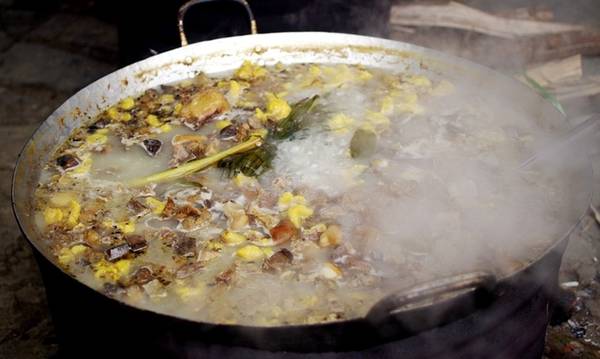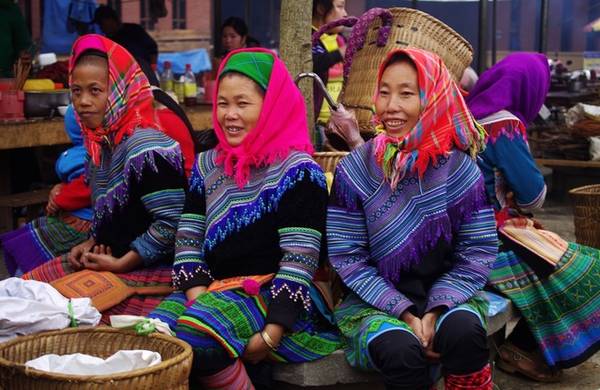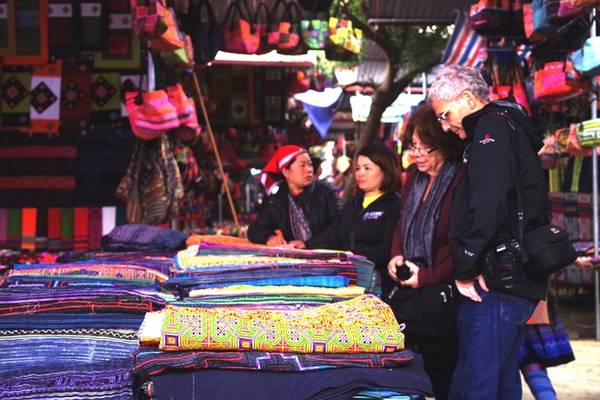 Day 4. (breakfast) Sapa – Tavan – Ham Rong – Fansipan peak.
After breakfast, start a half day trek to Lai Chai and Ta Van (vehicle is available for those who don't want a long walk). Begin the 3.5 miles walk by descending into a rice-terraced valley on the foot of Fansipan mountain, with the heart-breaking landscapes. Walk though isolated villages, rice fields, and thatched roof villages where Hmong people live. Observe the Hmong at work and at play in their distinctive dark blue dress. Continue hiking to the village of Ta Van, one of the few villages in Vietnam inhabited by the Zay tribe. Arrive in Ta Van this afternoon, continue exploring the villages nearby.
After lunch, walk up to Ham Rong (Dragon's Jaw) mountain and enjoy traditional music performance of the ethnic people. On the clear day, this is the best spot to observe Sapa town and its neighborhood villages and Fansipan range. The Rest of the day, explore Sapa town and its fascinating market. Overnight at the same hotel.
Day 5. (Breakfast) Sapa – Lao Cai – Hanoi.
After breakfast, you will depart for a half day of exploration around Sapa with trekking to visit Cat Cat hill tribe village of Black H'mong people and Cat Cat waterfalls. Return to Sapa for lunch and check out the hotel, depart Sapa for Lao Cai, en route, visit Ta Phin village of Red Yao people, the second largest hill tribe in Sapa. In Lao Cai, have dinner a local restaurant till transfer to train station for night train back to Hanoi. Overnight on the Fansifan

Day 6: (breakfast)
Arrive Hanoi station at 5:30am, pick up and transfer to your hotel in Hanoi.
End of Service.
CONTACT US AT: info@hoanganhholiday.com / info.hoanganhholiday@gmail.com