Tour Information
Itineraries: SAI GON – MY THO –  CAN THO -CAI RANG FLOATING MARKET – SAIGON
Type: Joining group / private
Depart Time: Daily
Tour Length: 2 days 1 night
Depart from: Ho Chi Minh
End in: Ho Chi Minh
ITINERARIES
DAY 01: CITY. HO CHI MINH – MY THO – BEN TRE – CAN THO (Lunch) 
8:00 am: Pick up at your hotel depart for My Tho(about 1 hour 30 minutes). You will see rice fields along the road and see the Vam Co Dong and Tan An City . To My Tho , you come to the throne Vinh Trang pagoda was built by Mr. Bui Cong Dat in the nineteenth century. Vinh Trang Pagoda is an architectural monument standing in the third row for all types of land temple south part. It was built air-phase architecture both Europe and Asia. Next Pier tourists to travel aboard 30/4 Tien River , scenic four islets dragon, unicorn, tortoise, Phoenix . Boat floating along the cage to visitors learn how to fish on the river of the locals and watch the Rach Mieu bridge 
Reaching Thoi Son Island, you walk on village streets, visiting people's houses, and orchards, enjoying the seasonal fruits and listen South amateurs . To visit the farm honeybees, honey lemon tea taste.
After that, visitors used rowing boats washed into ditches watching 2 natural coconut water and simple landscape of orchards.
Become a big boat, downstream along the Tien River , the boat will take you to the Ben Tre Province to visit coconut candy specialty of Ben Tre , oven pancake in Tan Thach . Up carriage sightseeing street village Tan Thach commune to tourists watching the orchards and idyllic life of the people of coconut.
Boats continue to bring visitors to the resort Con Phung to learn about the area Mr. Dao Dua is the founder Dao Dua (Coconut religion); aka Sociable Religion is one religion existed in the South before 1975. Dao Dua advocate of religious harmony, synthetic essence of many religions, especially Buddhism, Christianity. Bagua correctness, up boat opencast Prajna stations to bridge the Buddha, first, holy … and have lunch and rest. After lunch, guests can use the bicycles run on village roads immersed along with the lives of local people, enjoy the beauty of the land of coconut. Guests can experience the feeling and challenge yourself with games like: Fishing crocodile (self), go footbridges … ..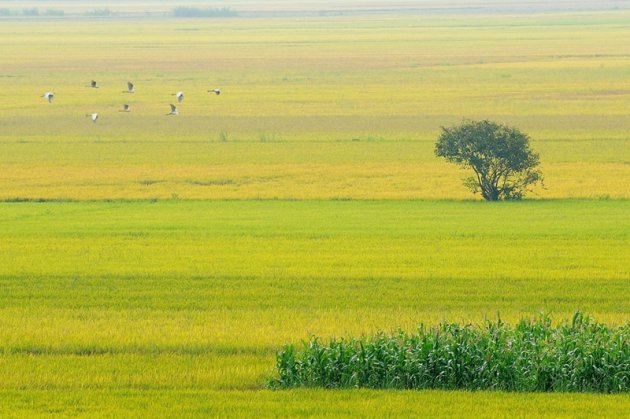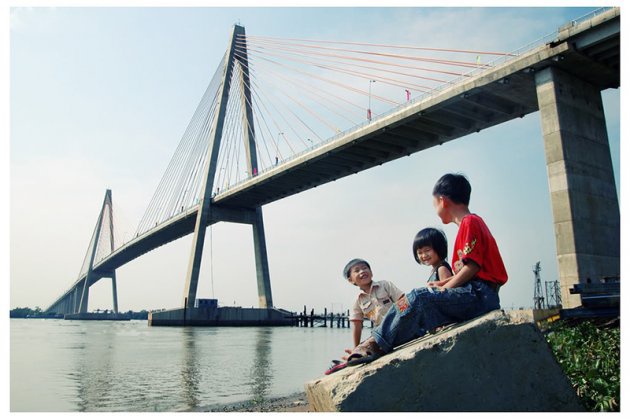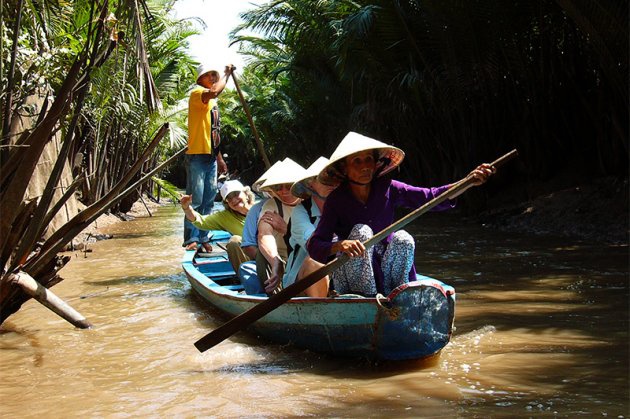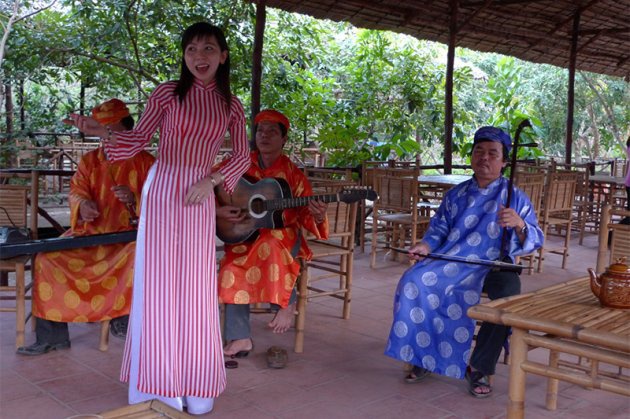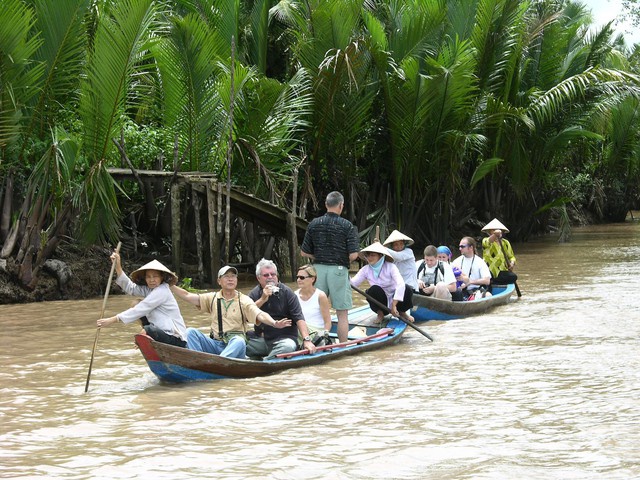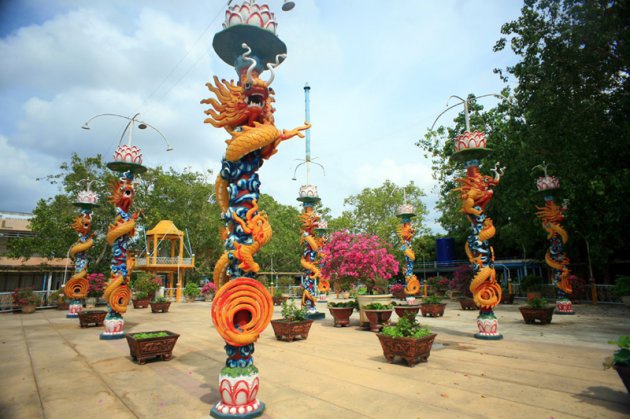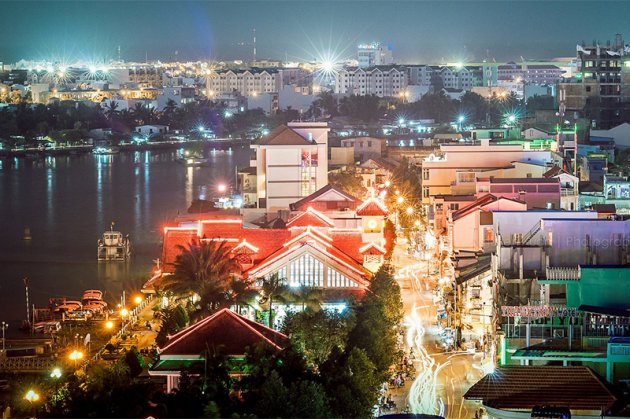 DAY 2: CAN THO – Cai Rang floating market – SAIGON
7h00: Have breakfast, take your car to Ninh Kieu wharf , boat excursions on the river Tho visitfishing ports, markets Tho, Quang Trung bridge , visit the Cai Rang floating market , one of the floating markets large most Mekong delta where hundreds of boats, ships barter trade, local specialties. Visit orchard of local residents, enjoy the Southern Fruit.
Leaving Tho. Stop tour MEKONG REST STOP before returning to the city. Ho Chi Minh. Mekong Rest Stop is senior stops designed by the architecture open, harmony with nature and peculiarities "Green – Clean – Beautiful". Stops include a restaurant system (central restaurant, air conditioned restaurant, and a beam house years old), shopping malls and works…
Upon arriving here, visitors will feel the fresh air of the waters. The terminal space using rustic materials such as bamboo, straw roof gives visitors a close familiarity with the villages of Vietnam. Not only that, the designers have cleverly arranged the winding around the river, with bridges bamboo and wooden boat, fishing nets … are discovering appealing to visitors.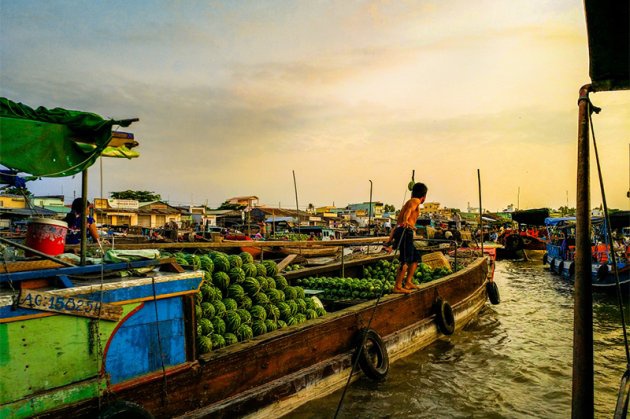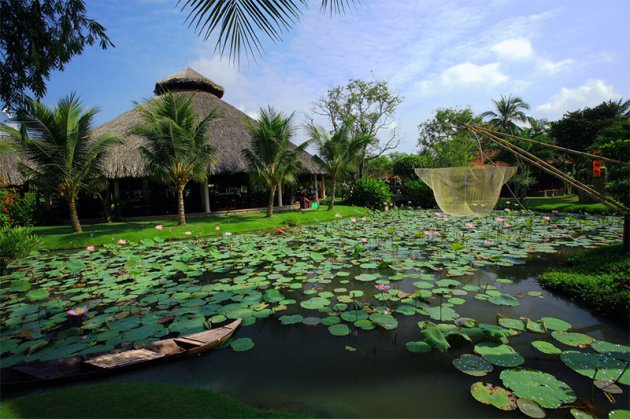 16h00: Departure back to HCMC. To point paying guests farewell and see you in the next time.